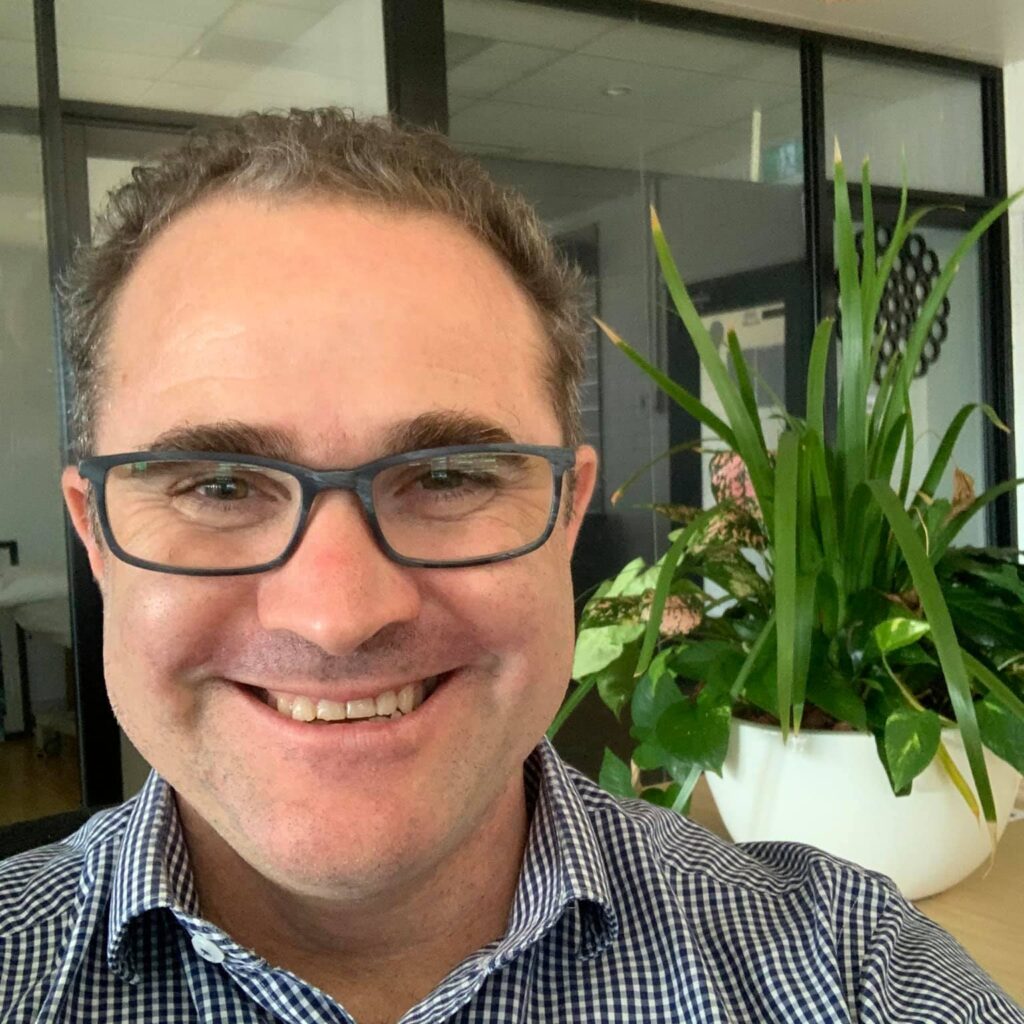 Name:
Simon Turnbull
References:
"Simon is a professional health care provider with a high regard for patient outcomes. He is driven by a desire to provide the best service possible to deliver habit change in individuals that he sees. Enriched Health is a provider of quality care in the areas of exercise physiology." – Dr Linjawi Endocrinologist January 29, 2012
"Simon is a professional, friendly and enthusiastic health care provider. As an athlete and Personal Trainer my clients and myself  have benefited from Simons expertise on numerous occasions. His advice and recommendations have always been thorough and have provided positive outcomes. Simons sponsorship for myself and many other local athletes shows his true giving character in supporting his local community" – Daniel Voltz Owner of 2Forty Voltz Personal Training, and World Championship 70.3 Ironman Triathlon Competitor.
Accreditations
Accredited Exercise Physiologist – Exercise and Sports Science Australia
Credentialed WeeFIM Assessor
Credentialed Functional Independent Measures (FIMS) assessor
Certified MOCA Assessor
Accredited WorkHab Assessor- WorkHab
SIRA Accredited Work Place Assessor
SIRA Accredited Functional Capacity Evaluations 
SIRA Accredited Case Management
Lifetime Care and Support Approved Case Manager
Level 1 Olympic Lifting Coach
Level 1 Pose Tech Crossfit coach
Level 1 Menezes Pilates Reformer
Medicare Approval
WorkCover Approval
DVA Approval
Private Health funds approval
Personal Interests
Ultra Trail Australia 2016 17 hrs 22 minutes and 40 seconds

The North Face 100 2015, 13 hrs 54 minutes

The North Face 100, 17th May 2014: 13 hrs 40 minutes and 54 seconds. Silver Buckle.

The North Face 100 18th May 2013 Finisher: 16hrs 32min 36sec

Brooks Forster Running Festival: 21.1 Km, 2013 Personal Best of 1hr 33 min 11 sec

Port Macquarie 70.3, 20th October 2013, 5 hours 41 minutes and 7 Seconds
Memberships
Education
2021- Ongoing Masters in Clinical Rehabilitation – Flinders University, Adelaide
2011- Australian College of Health Services Managers,  Mentoring program.
2006 – Certificate IV in Work Place Assessment and Training  – East Coast Training
1994-1997 Bachelor of Exercise Science (Major in Exercise Physiology)
1995 Massage – Southern Cross University
Conferences and Workshops
7th World Neuro Rehabilitation Conference in Melbourne
Computerised and Clinical Assessment and Management of Gait Dysfunction,  Melbourne
Stroke Rehabilitation: Insights From Neuroscience and Imaging, Melbourne
Huntington's Disease World Congress 2011
Musculoskeletal Medicine Upper Limb Assessment and Treatment workshops at Flinders Uni in Adelaide
Musculoskeletal Medicine Spine Assessment and Treatment workshops at Flinders Uni in Adelaide
Musculoskeletal Medicine Lower Limb Assessment and Treatment workshops at Flinders Uni in Adelaide
Previous Board/Committee Positions
2018-2019-Co Chair Australian Association of Exercise and Sports Science (NSW Chapter)
2009-2010 Run Director: Port Macquarie Iron Man and Port Macquarie 70.3
2010-Regional and Remote Director: Australian Association of Exercise and Sports Science (NSW Chapter)
Areas of clinical interest
Clinical Gait Analysis for Runners and Movement Retraining
Pre and Post Operative Rehabilitation
Sports Strength and Conditioning programs
Sports Injury Prevention and Management
Complex Skill Development
VO2 Max Assessments
Metabolism Assessments
Video Analysis for Bike Fitting
Rehabilitative Pilates
Spinal Cord Injury Management
Brain Injury Rehabilitation
Musculoskeletal Rehabilitation for Occupational Injuries
Functional Capacity Evaluations- Work Hab
Work Place Assessments
Complex Case Management
Clinical Neurological Rehabilitation
Clinical Gait Analysis for Neurological Conditions
Activities of Daily Living Assessments
Care Needs Reviews and Assessments
Care And Needs Scales
Injury Treatment Reviews
International Classification of Functioning
Functional Independent Measures
Areas of Management Interest
I manage Enriched Health which has delivered services to nearly 10,000 patients and 300 occasions of service per week. I have a particular interest in:
Health care leadership
Ethical health care practice
Patient Centred care
Lean health care.
Clinical supervision and employee development
Healthcare product development and  project management
Enriched Health Care 2005-2021
Exercise Physiologist/Managing Director
Provision of clinical Exercise Physiology services for a broad range of patients and managing a team that has included Physiotherapists, Psychologists, Exercise Physiologists, Social Workers, Administration and a Sports Physician
Work in own rehabilitation clinics, GP surgeries, specialists practices and aged care facilities.
Achievement: Built and manage a practice just shy of 11,000 patients running with a patient satisfaction rating better than 9/10 for greater than 90% of patients.
CRS Australia 2002-2005
Exercise Physiologist/Rehabilitation Consultant
Provision of exercise physiology and case management services for injured workers and job seekers
Achievement: One of the first Exercise Physiologists to achieve NSW WorkCover Functional capacity Evaluation and Work Place Assessment accreditation.
Kaizen Exercise Rehabilitation Centre 2001-2002
Exercise Physiologist
Provision of clinical exercise physiology services to patients
Achievement: Assisted in building the first regional Exercise Physiology practice in Australia.
Various Recreation and Fitness roles 1997-2001
Recreation Manager -Port Pacific Resort, Port Macquarie
Activities Officer and Fitness Instructor Dunk Island Resort,
Fitness Instructor City Club Grand Hyatt Melbourne
1996-1997 Gymnastics Coach – In Schools Gymnastics
1995-1997 Strength and Conditioning Coach- Goonelebah Swans AFL team
1996-1997 Ballina Seagulls Rugby League  Team- Massage Therapist and Strapper.
Book Now – Ph 0265836900 or online